THE UK'S EXCLUSIVE EUROMACH DEALER
Model Comparison
Model
Operative weight
Engine model
Engine type
Engine size
Max power
Potential difference
Max arm extension
Total pumps flow
Penetration force
Break off force
1500M
1900 Kg (2100 Kg with cabin)
Kubota D1105-EF07 stage V
Diesel four strokes water cooled
1123 (cc)
17,6 KW (24 Cv) ca.
12 V
4600 mm
(15′ 1″)
1 single pump + 1 secondary pump (fixed flow): 18,8 x 2 + 9,6 = 48 l/min
10,7 KN
17,4 KN
R25
2wd (Iso 6016) 2300 Kg
Kubota 1305 B
Water cooled 4 stroke turbo diesel
1305 cm³
18,5 kW (25 Cv) ca. 2600 rpm
12 v
4680 mm
–
13 KN
20 KN
R555H
7000 Kg
Kubota 3307 Stage V with antiparticulate filter
Water cooled 4 strokes turbo diesel
3331 (cc)
55.4 kW (75.3 Cv)
12 v
from 7080 mm (version A) to 7280 mm (version B)
260 lit/min
47 KN
67 KN
R755H
10.000 Kg
Kubota 3800
Stage V 85 Kw (115 Hp)
Water cooled 4 strokes turbo diesel, Intercooler
3769 (cc)
115 Cv (85 KW)
12 V
from 7740 mm (Version A) to 8020 mm (Version B)
290 lit/min
65 KN
84 KN
R855
Big Foot: 10.000 Kg
Forester: 11.500 Kg
Kubota
Stage V 3800 85 Kw (115 Hp)
Water cooled 4 strokes turbo diesel, Intercooler
3769 (cc)
Stage III > 100 Hp (74 KW)
Stage V > 115 Hp (85 KW)
12 V
7500 mm
420 lit/min
52 KN
75 KN
R955
from 10300 Kg (2WD Version A) to 11300 Kg (4WD version C)
Kubota 3800
Stage V 85 Kw (115 Hp)
Water cooled 4 strokes turbo diesel, Intercooler
3769 (cc)
115 Cv (85 KW)
12 V
3 different versions (A,B,C): from 7750 mm (A) to 8170 mm (D)
130 + 130 + 130 + 30 + 20 = 440 l/min
65 KN
110 KN
R1055
from 10300 Kg (2WD Version A) to 11300 Kg (4WD version C)

Deutz
Stage V

Water cooled 4 strokes turbo diesel, Intercooler
3769 (cc)
105KW (142 Hp)
12 V
3 different versions (A,B,C): from 7750 mm (A) to 8170 mm (D)
130 + 130 + 130 + 30 + 20 = 440 l/min
65 KN
110 KN
R1255

from 12.000 Kg to 12.800 Kg

12000Kg t0 13500 Kg (Forester)

John Deere Stage V
Diesel four strokes water cooled turbo variable geometric turbine
4500 cc
127 kW (173 Cv)
24 V
from 8270 mm (Version A) to 8860 mm (Version B)
470 lit/min
73 KN
118 KN
R145
16000 Kg (Big Foot); 17500 Kg (Forester)
John Deere Stage V
Diesel four strokes water cooled
6800 (cc)
198 kW (266 HP)
24 V
8930 mm
508 lit/min
83 KN
133 KN
In 1989 one of the first mini walking /spider excavators (a Menzi Jolly) was purchased by F.H Plant Services, to complement their growing mini excavator fleet. Prior to this there were a few towable diggers available with stabilisers / outriggers, (Smalley / Powerfab), but nothing with quite the same terrain capability.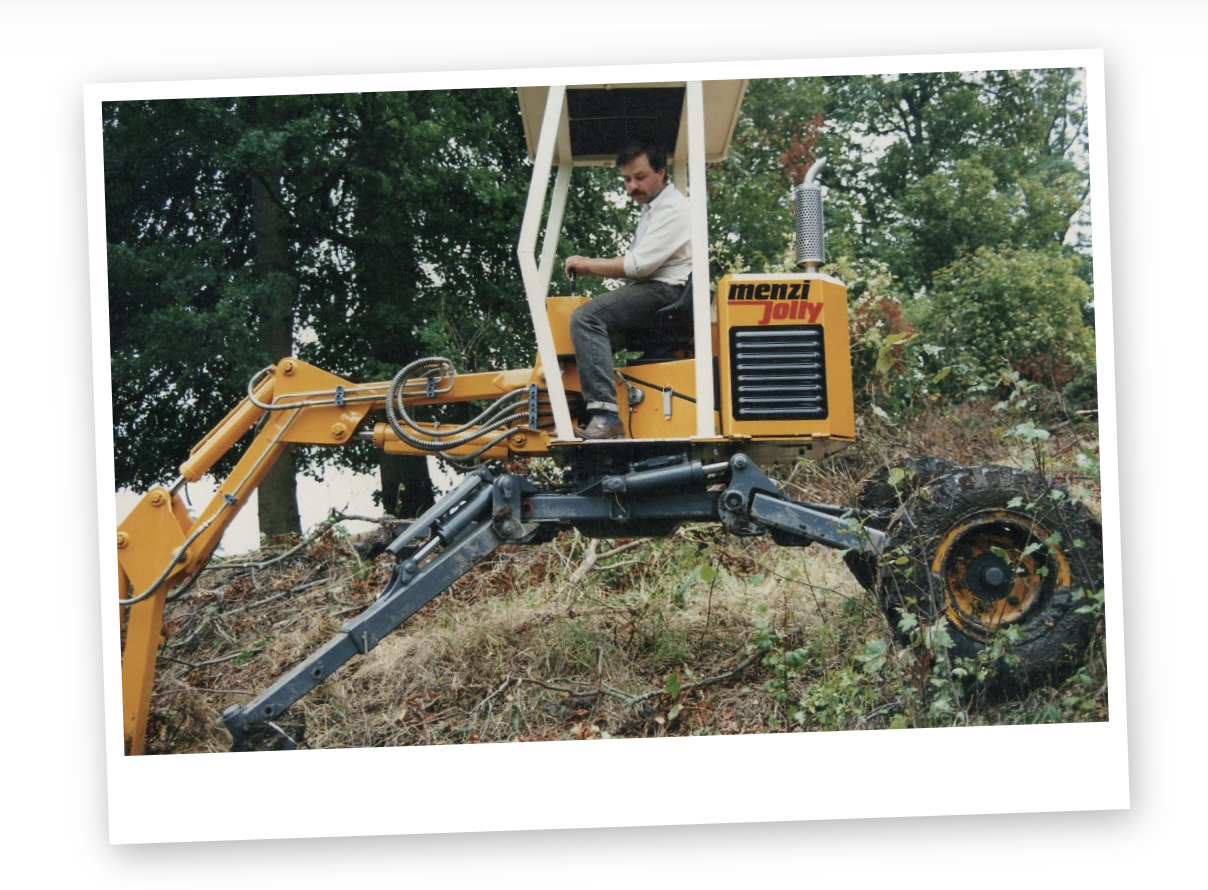 We also offer a wide range of other excavator attachments, which will be added to the site in the coming weeks.
In the meantime please either give us a call or use our contact page if you require information on any of the following.